PreRegister Today  336-599-255six
Vacation Bible School  6:30pm – 8pm    June 18-19-20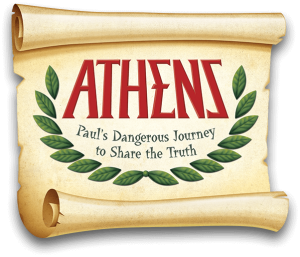 roxborochurch@gmail.com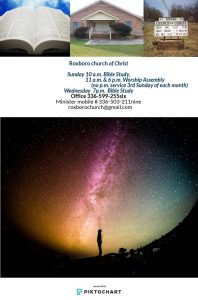 (Colossians 2:9-13) For in Him dwells all the fullness of the Godhead bodily; and you are complete in Him, who is the head of all principality and power. In Him you were also circumcised with the circumcision made without hands, by putting off the body of the sins of the flesh, by the circumcision of Christ, buried with Him in baptism, in which you also were raised with Him through faith in the working of God, who raised Him from the dead. And you, being dead in your trespasses and the uncircumcision of your flesh, He has made alive together with Him, having forgiven youall trespasses,  (NKJV)
Roxboro church of Christ assemblies;  Sunday 10 a.m. Bible Study, 
Sunday 11 a.m. & 6 p.m. Worship Assembly   (no p.m. service 3rd Sunday of each month)
… Wednesday 7p.m. Bible Study
Office 336-599-255six
Minister mobile # 336-503-211nine
Upcoming Events:
Save The Dates …  June 18th, 19th, 20th  – 2019 Tue – Wed – Thur.,
Vacation Bible School 6:30pm – 8pm  (336) 599-255six roxborochurch@gmail.com 
03-31-19     (a.m.) 5th 1st Sunday & (p.m.) Abbreviated Lesson & New Song Night
04-07-19     Share Night
04-21-19     Third Sunday (Easter) (no p.m. service)
04-28-19     Sunday Fellowship (no p.m. service)
05-05-19     Men's Meeting
When visiting …
What you expect may differ from what you experience.
We often base our expectations on previous  experiences, that includes church experiences.
(John 3:16-18) "For God so loved the world that He gave His only begotten Son, that whoever believes in Him should not perish but have everlasting life. "For God did not send His Son into the world to condemn the world, but that the world through Him might be saved. "He who believes in Him is not condemned; but he who does not believe is condemned already, because he has not believed in the name of the only begotten Son of God.  (NKJV)
In the first century, no one expected Jesus Christ as Savior of the World.  Today few focus on the only begotten Son of God.  He is our focus, His Word, His Teaching,, His Mission—"should not perish but have everlasting life."  His forgiveness for all.
We meet on Sunday, the first day of the week.  Early, first century Christians, met the  first day of the week.  Our Bible studies vary  sufficiently to study the   entire scripture from Genesis to          Revelation.  This takes time.  You may visit in the middle of a particular study.  We get to it all in due time.
Our Worship Assembly includes a lesson (sermon) from God's Word.  We sing hymns, pray for one another, take up a collection for the work of the church (this is specifically a work of the local membership, visitors are not obligated).  Each Sunday Worship Assembly we offer the Lord's Super (communion). Each of these acts of worship we find scriptural support  for in the New Testament.  By example, command and/or necessary inference, the Bible directs our Worship.
Our guide is God's inspired Word.
(1 Timothy 3:16) And without controversy great is the mystery of godliness: God was manifested in the flesh, Justified in the Spirit, Seen by angels, Preached among the Gentiles, Believed on in the world, Received up in glory.  (NKJV)
When you visit, if you expect today's  worldly version of "church" you will be pleasantly surprised with your visit.
First century Christians worshiped differently than today's worldly church goers.  The truth truly will set one free.  Free from the weight of unforgiven sin, free from man's traditions which continue in their varied influences on those seeking God's truth.
"Show me in the Bible, show me in God's Word, why you do what you do in "church".  If you are unable to do so; book, chapter, and verse, then whose church are you presenting to the lost of this world. … Yours or Christ?"           Wayne Sinquefield—Minister
(Ephesians 1:22) And He put all things under His (Christ) feet, and gave Him to be head over all things to the (one) church,  (NKJV)
(Colossians 1:18) And He (Christ) is the head of the body, the church, who is the beginning, the firstborn from the dead, that in all things He may have the preeminence.  (NKJV)
"Walk – Ins – Welcome"